Workshops for other schools/associations/organizations
You are considering organizing a seminar with us for your association/your school/your organization? Our location or at place?

You are looking for a whole new experience? You are looking for a 'distinction'? Also for your event? Possibly with regards to martial arts? If yes, then you have the right match with us!

We do offer practical two to three hour seminars for the Wing Tsun / Escrima martial art, that are being conducted completely professional when it comes to practice and theory. It does not matter, whether any prior knowledge is already among the participants or not, or they have or have not any athletic assumptions.


For whom are those seminars suitable?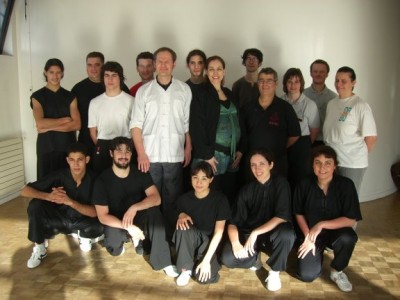 Of course for those associations or school facilities coming already from 'fighting sports' or arts' who would like to 'cross-learn' or gain by 'cross-train'.

But generally also to all interested private people, fitness centers, professional coaching organizers, etc. have the possibility for an extraordinary event for their plannings .

The idea is, that you will experience a professionally conducted practial seminar on the subject of self-defence, with its topics being able to be transitioned into today's business world. Or you house a christmas or summer party of a different kind. Or you offer a completely new workshop concept to your members in the fitness center .
Please contact us for conditions and possibilities!
Seminars of this kind are open to every school and association, independent to their affiliation and offer you thus the possibility to get first hand contact to Wing Tsun according to Leung Ting and Escrima according to GM Rene Latosa in a neutral environment. Continuous seminar events are possible.
We are operating also operating internationally!
Send us an e-mail at
info@wt-velbert.de
with the subject: seminar inquiry and we will get in touch with you.