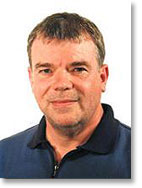 a man on his own term was born 1948 in Oberhausen / Rhine area / Germany.

For 30 years Dai - Sifu Olbers is actively promoting the marttial arts of Wing Tsun / Escrima. Reason enough to take an ample review.

Begun had this career like so many other Wing Tsun / Escrima teachers with traditional Karate. His teacher was then the later national Karate instructor of Australia Frank Nowak. So right from the beginning Dai - Sifu Olbers was an afficiniado of authentic and well respected tutor. 1977 was the first contact with the then absolutely unknown Wing Tsun. Because at this time Kiel was the center for all Wing Tsun actives in Germany the beginning years were constituted of one week long seminars that were conducted only annually with this intensity. After that the situation changed when he became the direct student of one of the first Wing Tsun instructors at all. Even from that time frequent contacts to some co-students from this era who themselves became his students after his instructor closed the door in order to dedicate himself to his profession still exist.
He can review a lot of anecdotes from this time was it then a time of tight Wing Tsun family bonds what already resulted from the small number of students in whole Germany.

With the closing of the door of his instructor the actual Wing Tsun live of Dai-Sifu Olbers began. The step into the tutoring activity happened to be the official opening of his own first Wing Tsun and Escrima school in his local city Mülheim an der Ruhr and with that the beginning of the personal dedication towards this profession. From this onwards the setting up of almost all schools in the whole Rhine/Ruhr area commenced. The majority of instructors and teachers that teach in the wider area Wing Tsun / Escrima or similar had their initial teaching with him.

With his then highly motivated team of more than 170 instructors and teachers he managed around 90 schools in the Ruhr area and even more far. Even instructors that were on their own because their teacher closed the door contacted him in order to be a member of his team. Why that?

Dai - Sifu Olbers by his wealth of life experience in the relation to other people of all kinds has his own style of leadership that made him very successful. Belonging to that as the most important element - after his opinion - is to see co-workers, instructors and teachers as young professionals and to restrict himself only to the most necessary in terms of self-presentation.

All that converged with his professional background from various trades together with his Wing Tsun and Escrima education: commercial executive, quality tester for materials (destructable free technique, sonic, x-ray), motivation and sales trainer on seminars, pedagogics, theater- pedagogics, acting and directing, motion system Feldenkrais, literature-fiction and non-fiction, behavioural psychology (human and animal).

In january 2006 he founded the new association under his own directorate with the aim to promote the martial arts of Wing Tsun after Leung Ting and Escrima after Rene Latosa with a service orientated and therefore high quality approach on an according price level. The constitution for the decades to come is built on a young and highly motivated team of instructors. Aside from that this team of instructors is provided by highly value added resources in terms of public relations, marketing, pedagogics, etc.